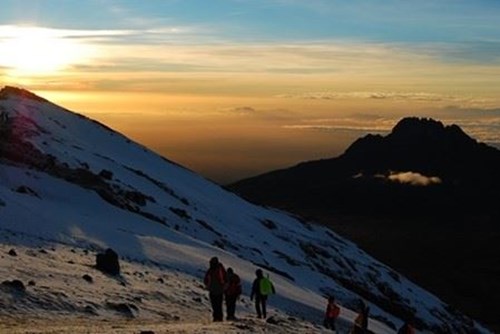 Veteran Army aviator Paul Edwards is aiming to summit Mt Kilimanjaro in September 2021 in order to raise funds for our #AFMHelpUsFlyHigh appeal and the Historic Army Aircraft Flight (HAAF) Trust. The financial effects of COVID-19 have hit us both hard and the funds raised are aimed at enabling the Museum's additional cash flow to bounce back and the HAAF to finish renovating their DHC Chipmunk and a 1942 Army Auster Mk1 aircraft.
At 19,340 ft, Mt Kilimanjaro is the tallest mountain on the African continent and the highest free-standing mountain in the world.  Altitude sickness is the greatest risk in climbing Kilimanjaro.
Paul's personal challenge involves summiting Mt Snowdon at least 3 times (including once by night), Scafell Pike at least twice and the same for Ben Nevis, before attempting Mt Kilimanjaro 09 to 23 September and after the decent to dive off the coast on compressed air to a depth below 100ft.   His son John (living and working in another country) will join him in Tanzania for the Kilimanjaro climb.
"On mountain" dates are: 
Snowdon: 25,26,27 May.  23,24 August.
Scafell Pike: 14,15,16 June
Ben Nevis:  27,28,29 July
In the event UK Government COVID restrictions prevent departure in September the final part of this challenge will be delayed to a date when it is subsequently able to go ahead and his package has a contingency for this. 
Please help our #AFMHelpUsFlyHigh appeal and the HAAF by donating to Paul's challenge. Thank you!