Why not get involved in our new project? We're inviting people to explore the meaning behind slang words, terms, and phrases used in the British Army, such as "having a brew" and"what's the buzz?" Do you know what an 'egg banjo' is or what a 'furry crocodile' is used for?
Participants in the project will help create 3 banners depicting words and phrases used in Army parlance. The banners will go on display in the Museum over the summer giving visitors the opportunity to uncover the meanings behind Army lingo.
We are delighted to be working with the 1st Kings Worthy Guides, the 11th Winchester Scouts and 12th Winchester Scouts as part of this project.
If you would like to take part, then just complete this SHEET including a definition for an Army term or phrase and illustrated with a drawing. Below is an example entitled ''Marching out',  which was submitted with the following definition:  'Moving out from Quarters with an inspection of cleanliest and damages'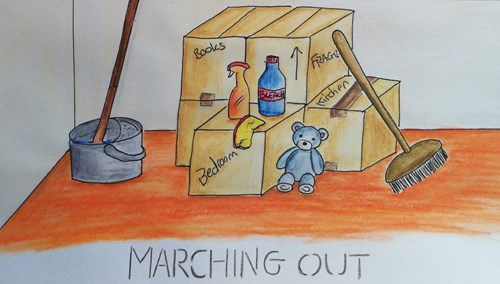 Submissions will then be printed on fabric transfer sheets and then ironed onto the banners ready for display. Please email your 'Army Lingo' submissions to: outreach@armyflying.com